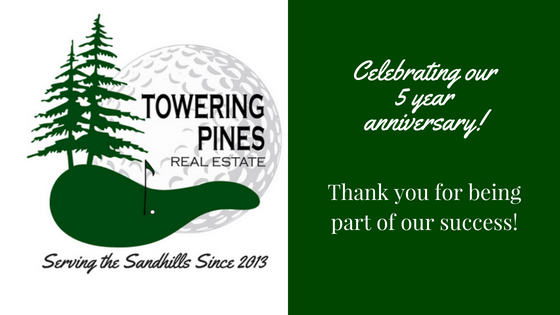 On May 1, 2013, Terry and Allen opened the door, both literally and figuratively, to a new chapter in their lives when they began doing business as Towering Pines Real Estate, here in Southern Pines. In those 5 years, they have grown their independent, start-up brokerage to 18 professionals and one amazing administrator; they have established their company as one of the most respected firms in the markets we serve; and, oh yes, they got married!
Over the next few months, we will be celebrating our 5-year anniversary in a variety of ways. We want to thank the many clients who have placed their trust with us in allowing us to help them buy or sell real estate, as well as the support we have received from our affiliated service providers – the lenders, attorneys, inspectors and contractors, as well as our Realtor® referral partners, all of whom have helped us establish a standard of client service that is second to none.
Whichever role you have played in our success, we appreciate you, and look forward to serving you for many more years to come!