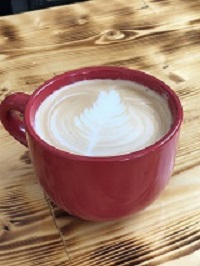 Latte Art by Cody Edson
OUR FIVE FAVORITE COFFEE SHOPS
To mark our 5 year anniversary, we are posting our 5 Favorites of the Sandhills for the next 5 months. This month, we are featuring our 5 favorite coffee shops of the Sandhills.
Located just steps away from the Sunrise Theater, Swank Coffee Shoppe located on Broad Street in Southern Pines offers not only coffee, frozen drinks and pastries from Pines Scones, they also have an eclectic mix of art, jewelry and soft goods too.
Do you have a love affair for both coffee and books? The two are combined in the Village of Pinehurst at The Roast Office and Given Bookshop where they share the home of the former Village of Pinehurst Post Office. A popular morning destination for your caffeine pick me up, The Roast Office features light food options from local suppliers.
Looking for a coffee shop with great coffee, room to spread out, and a pretend barista space for your little ones? Located in Carthage, the town seat of Moore County, Buggy Town Coffee offers all of this in their light filled space. We hear you should try their Nitro Coffee they have on tap!
Get ready to step back in time when you enter this former gas station turned coffee shop that retained its vintage vibe in downtown Aberdeen. High Octane offers a wide variety of savory and sweet items to enjoy with your coffee. On a recent visit, friendly Cody Edson, a certified Barista, created some stunning latte art.
Another Southern Pines favorite, Java Bean Plantation and Roasting Company is nestled along Broad Street and Indiana Avenue in a quaint little house with an awesome patio to enjoy your cup of Joe allowing you to enjoy your coffee inside or out!
Enjoy our blog post? Be sure to share it with your friends! Next month, we will be featuring our 5 favorite breakfast spots. Does yours make our list?