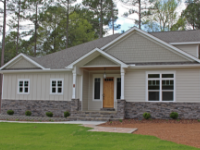 3 Things to Consider When Buying a Bigger Home
A Guest Post from Micheal Brennan of Bellhops
When you purchased your very first home, you probably thought it was perfect for you and your partner. After all, people buying starter properties don't always need a lot of space or extra features. However, when new additions start entering the household, you might begin to think about the benefits of moving to something a little bigger.
A larger house might be a little more expensive than your current abode, but it also offers greater comfort, more space to expand, and plenty of opportunities to move up on the property ladder. Here are the three top things you'll need to consider when you ask your real estate agent to help you find the perfect property upgrade.
1. What Can You Afford?
The first and most obvious thing you'll need to consider when you're buying a new home is how much you can realistically afford to pay in terms of both a deposit and a regular monthly mortgage payment.
You might be able to get a longer term for your mortgage that will bring the price down a little, but you'll also need to consider things like bigger property tax bills, and higher homeowners insurance. Also moving expenses will also be a factor - how much packaging will you need? Will you be employing the services of a local moving company? If not will you have to hire a larger vehicle if you're taking the DIY approach? All of these will have to be considered, however thorough preparation will help keep moving costs to a minimum.
2. How Much Additional Space Do You Need?
Different families have unique ideas of what the definition of a "bigger" home should mean. You're probably not looking exclusively for extra square footage when you're buying your latest property; you'll also need to think about things like how many bedrooms you're going to need to support your entire family, and whether you need a room for a home office.
When you're looking for the ideal upgrade property, think about how your family typically lives. For instance, you don't need a huge kitchen if you don't do a lot of cooking and baking, but if you have multiple people living in the same house, it might be a good idea to buy a home with more than one bathroom. Additionally, if you have plenty of kids to entertain, then you might be willing to compromise in indoor space so that you can have a garden outside.
3. Where Are you Willing to Compromise?
Finally, when families move to a larger home, they often find they need to make some compromises. After all, upgrading to a bigger house can be expensive, and you may not be able to find a property that has everything you need and fits your budget, so have a think about what you can afford to live without. Obviously you can't afford to move to a house which doesn't have a secure roof or the right number of bedrooms, but could you consider moving somewhere a little further away from work?
Is there a particular neighborhood you desperately want to live in, or are you willing to put an up-and-coming area to the test if it means that you can save some extra money? Maybe you'd be happy to do without a yard if you know your new property has a park nearby.
Deciding what you're willing to compromise on in advance will make it easier for you to make a confident buying decision.